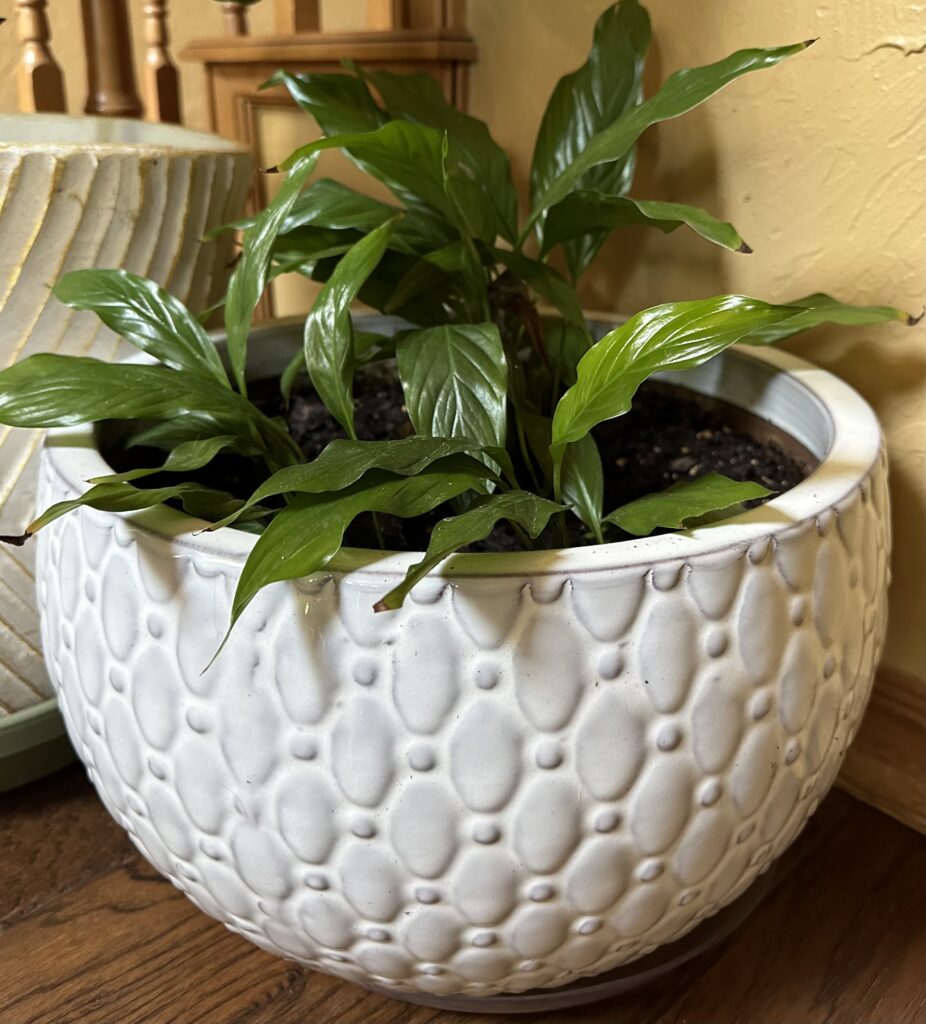 I value physical markers of momentous occasions and people in my life. I have two particular plants which represent significant lifetime events. One is a Peace Lily and the other, a Schefflera. I have had the Lily for 26 years and the tall, now lanky Schefflera for about 14 years. At some point, I had replanted the Peace Lily from its original container many years ago. The Schefflera was still in its original plastic pot from when it was delivered to me. As I was repotting them recently, it reminded me how our bodies need the same type of nuturing in spirit, soul, and body before we face a life transition instead of waiting till we are withered.
I would like to tell you my green thumb cared for them over all these years, producing extraordinary growth. Instead, I have somehow managed to keep them alive by watering them at the last possible moment; the leaves brown and dropping to the ground. I have known for a while the plants needed new homes to better prosper but the task seemed too large and exhausting. My husband would have just as soon placed them in the dumpster but I refused to say goodbye because of their importance to me.
The Peace Lily was sent to memorialize the death of my grandfather and the one I chose to take home in remembrance of him. He played a crucial role in my upbringing and more importantly, modeling for me how to live with kindness, hope and faith. Even though I have allowed the plant to remain stagnant in its growth, I couldn't fathom throwing it away.
The second plant, the Schefflera, was sent to me by my husband as gratitude for taking care of his father when he was ill. Since we got married later in life, we were the cream in the middle of a sandwich cookie, raising kids while caring for aging parents. His parents were both very ill when our first child was born. His mother passed away 3 weeks after her birth and his father several years later. In between these deaths, my bonus father passed. It was a trying time in our lives.
There was one particular time during his father's illness that the juggling of caring for the kid's and him was especially difficult. I was exhausted and overwhelmed. As if on cue, the plant arrived at our doorstep. The Schefflera always reminds me of the important role I played in caring for his father and the acknowledgement of what it meant to my husband when words are hard to say.
While my plants were still alive, they certainly were not thriving. I gave them enough sunlight and water to allow them to barely survive all these years. More care in fertilizing and providing a bigger space to expand their roots would have allowed them to reach their growth potential. Our bodies are no different  from my neglected plants, especially when we don't take time to care for them.
Our lifetime sees many transitions, some joyous and others grieve worthy. We can take a beating and keep on ticking but at what expense to our future selves. We may still be standing but at what cost. The way we care for ourselves now in spirit, soul and body will determine how we survive during the more barren times. 
By prioritizing our spiritual well-being and cultivating a deep relationship with Christ, we can find strength and direction in navigating life's transitions. Nurturing our soul by taking care of our mental and emotional health, allows us to process and adapt to the challenges we face. Tending to our physical bodies through proper nutrition, exercise, and self-care equips us to withstand the trials that come our way.
Just as my plants needed better care to survive and thrive, so do our bodies. They are the vessels that carry the weight of our experiences. Taking care of ourselves in the present will help us endure the transitions that await us. It's a reminder that investing in our well-being is not selfish but necessary for our faith, hope, growth, resilience, and ability to navigate life's complexities.
We should not wait for a life event to realize the neglect we've shown our bodies. Now is the time to cultivate your relationship with the Lord through prayer, quiet moments of reflection, and worship. Attend to your soul by keeping your emotional health in check and finding balance in your life. Ensure your physical body receives the nourishment it needs to be resilient in times of caregiving exhaustion. 
Taking steps today to invest in your physical body – spirit, soul & body – will better equip yourself for whatever challenges may arise in the future.