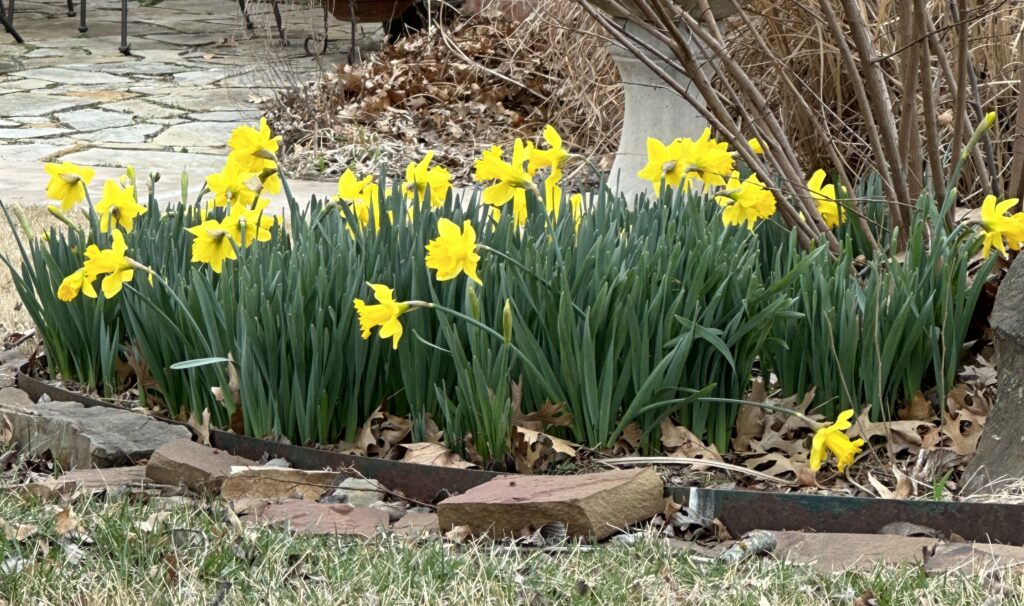 During a walk in March, bright yellow daffodils caught my eye as they were peeking up out of the late winter ground. They are the first signs of renewal bursting forth even though the vegetation surrounding them still has yet to come to life. Daffodils are paradoxical, sunshine yellow surrounded by shades of weary brown. The visual leads me to ponder the beauty that is actually occurring in us during our times of despair and emptiness. In this hollow period, we often are aching for the new growth to spring forward instead of leaning into the germination sprouting inside of us during the darkness.
Wisdom abounds in nature regarding hardship during the wintery seasons. Trees provide extraordinary examples of life still being lived even when it is dark, cold and blustery. During the winter months, while trees appear lifeless, the deciduous varieties are just as alive as they were in their green glory. 
Trees actually prepare themselves in advance for a cold winter. When the sunlight changes, the tree senses the oncoming of winter by losing their leaves and begins to preserve energy/water for the blustery months when rain and sun are more scarce. The exterior of the tree, the bark, protects the tree from the harsh elements thrown at it during winter. Even at a cellular level, trees are able to guard against freezing water which has the potential of killing the tree. As spring rolls around with more sunshine and warmth, the trees adapt and dazzle us with their budding beauty. 
There are many lessons we can learn from God's creation and the numerous species of trees. Similar to the intricate design of trees, we are equipped with layers of protection in spirit, soul, and body. 
When we give our life to Jesus, God gives us: the Holy Spirit to guide us in truth (spirit), his Bible for direction/wisdom (soul), and fellowship with people to walk with us on our journey (body). God has equipped us for the times when we are barron and devoid of energy to cope, but much of the preparation takes place during our fruitful/joyful times.
When grief, sadness, disappointment, worry, anger, loneliness, and anxiety enter our lives; God is still with us. He actually calls us to bring our laments to him in our sorrowful times as he never expected us to wrestle with our emotions alone. Through the resurrected Jesus, we are offered a new hope and the promise of the Holy Spirit to be with us until we are reunited with him in eternity. This inheritance walks with us in all seasons of our lives. (1 Peter 1:3-4) God desires admittance to the deep crevices of our lament as he is equally thirsty for us to bring our grief to him as well as our joys. 
He desires our soulful prayers of crying out in pain, hurt and confusion in a fallen world. The Psalmist provides wonderful examples of how to wail out to God with our requests of him for sustainment. In Psalm 3:1 , David cries out "O Lord, how many are my foes?" as he is fearful for his life and feeling overwhelmed. He asks "How long" while others are saying to him"God will not deliver you." Just as David brings his despair/fears before the throne, he also remembers God's promise to him, calling on God to shield him, lift up his head, and trusting "from the Lord comes my deliverance." David trusted God with his fears while at the same had confidence that God would provide for him in his fearfulness of those against him. God's word covers us in our despair and the Psalms provide examples of how to lament to our Father.
In his book on lament, Dark Clouds-Deep Mercy, Mark Vroeger, who lost a daughter, describes lament as "giving a person permission to wrestle with sorrow instead of rushing to end it." He talks about how lament invites us to grieve while drawing closer to God. It is in our wrestling that we learn to believe in God's goodness. He calls this being able to vocalize your sorrow while reaffirming your trust in him. Don't be afraid to wrestle with your emotions.
When lamenting to the Lord, it is equally important to remember the things God has done in our lives. Recalling his provisions moves us toward trusting him and gives us assurance he will see us through our difficult times. If you are finding yourself in a season devoid of joy, take time to list the moments God has provided in your life. Look for the provisions and joyous reflections tucked in small corners of the sadness. We can trust God to walk alongside us in our sorrow while crying out to him in our pain.
Lastly, we must rely on the body to carry us in our barren seasons. In nature, trees do not grow singly but in clumps, groves, and forests. They rely on each other for available resources in order to thrive. We too are called to support one another through rejoicing and mourning. God calls us to share our health and sickness with the church for "songs of praise" and "anointing of oil in the name of the Lord." (James 5:13-15) Lament is not a time for isolation but a time to rely on others to walk along side us in our despair. God's intention is for us to rely on the the body of believers to provide the necessary resources for comfort and support in our barren seasons. 
Like the trees in winter, there are seasons in our lives when we are mourning, lifeless and feeling hopeless. It is in the abundant times we should be preparing for the barren seasons. The Bible is clear they will come. In order to be prepared for the winter seasons, we must be involved with developing relationships with God and the body for our preservation in the barren times. God designed trees to utilize everything in nature to survive the blustery winter and he equipped us in the same manner with the Holy Spirit, prayer, the Bible, worship and fellowship with the body. Even though pruning can be painful, God will produce the fruit when the season is right in our lives. 
Resources on Trees:
University of Georgia – College of Agricultural and Environmental Sciences
National Association of State Foresters